Maybe you didn't know this, but your flock has a list for Santa too! It's fun to give gifts, and as many pet owners know, that includes giving special goodies to our feathered or fur babies!  
Finding that perfect gift for pet chickens is always rewarding. Whether you are picking out gifts for your flock or your friend's flock, this backyard chicken gift guide will help you find that perfect gift! 
Before we get into the gifts, it's a good idea to know why you would want to consider giving your flock or a friend's flock one of these gifts. The ideas on this list include items that are fun gifts, practical gifts, functional gifts, helpful gifts, and healthy gifts.  
We all love to spoil our flock, but it's even better when we can spoil them for their good and our benefit! When choosing a food related gift for your flock, consider the nutritional value and what benefit it will add to your flock's diet. When deciding on a functional gift, consider how it will help you manage and care for your flock better.  
If you are picking out gifts for a chicken loving friend, consider how the gift will make their flock healthier or their chicken care routine easier. The gift giving season is so much fun, so let's see what your flock has on their wish list!  
20+ Gifts for Chickens & Flocks
Health & Diet Gifts
Everyone loves getting special treats and favorite foods as a gift, and your flock is no different! Just make sure you are choosing healthy and beneficial options too! 
Grubblies- While live bugs are scarce during the winter, oven-dried grubs solve the problem! Your flock will love devouring these protein-packed grubs all winter long. Plus, your flock will start to recognize the Grubblies bag and come running. This is especially helpful when you're trying to get your flock back into the coop safely. 

 

Grubbly Fresh Pecks - Gift your flock with a healthier diet! This sustainable, premium chicken feed will make your flock both happy and healthy this winter. Rather than feeding your flock fish or soy-based feeds, they'll love an insect-based feed filled with ingredients they naturally forage for outside. 

 

Berry garland - A healthy gift that is also entertaining may be just what your flock wants for Christmas.

 

Vegetables - Whole vegetables provide hours of boredom-busting entertainment and will keep your flock busy on Christmas day.

 

Whole grain & seed blend - Encourage some wintertime activity and gift your flock with a few handfuls of a whole grain and seed scratch blend, and don't forget to throw in some grubs!

 

Popcorn - A fun treat for special occasions, popcorn will be a stimulating and entertaining treat for the holidays! 

 

Sprouted grains - Lack of fresh greenery during the winter may leave your flock craving some leafy greens, so some sprouted grains may be just what they want!

 

Quinoa - A protein packed gift that is very beneficial for your flock, and one that they will enjoy devouring!

 

Scrambled eggs - We may be hoarding our fresh eggs during the winter, but your flock would appreciate a warm breakfast of scrambled eggs on Christmas morning!

 
Sea kelp - It is packed with vitamins and minerals for promoting overall good health and your flock will love it when it's sprinkled over some cooked quinoa or scrambled eggs!

 

Nesting box herbs - Your hens would love a fresh and relaxing aroma surrounding them as they lay their eggs!

 

Probiotics - This beneficial gift will keep your flock healthy all winter long, and your flock won't mind this supplement gift when it is combined with some of their favorite snacks like farm-fresh grubs.

 

Herbal tonics - Give the gift of natural health remedies this winter and see how they can help your flock stay in tip-top shape!

 

Comb salve - Your feathered family members with tall combs and long wattles will appreciate this gift. It'll give them something to protect them from the cold weather and frostbite!

 
Functional & Helpful Gifts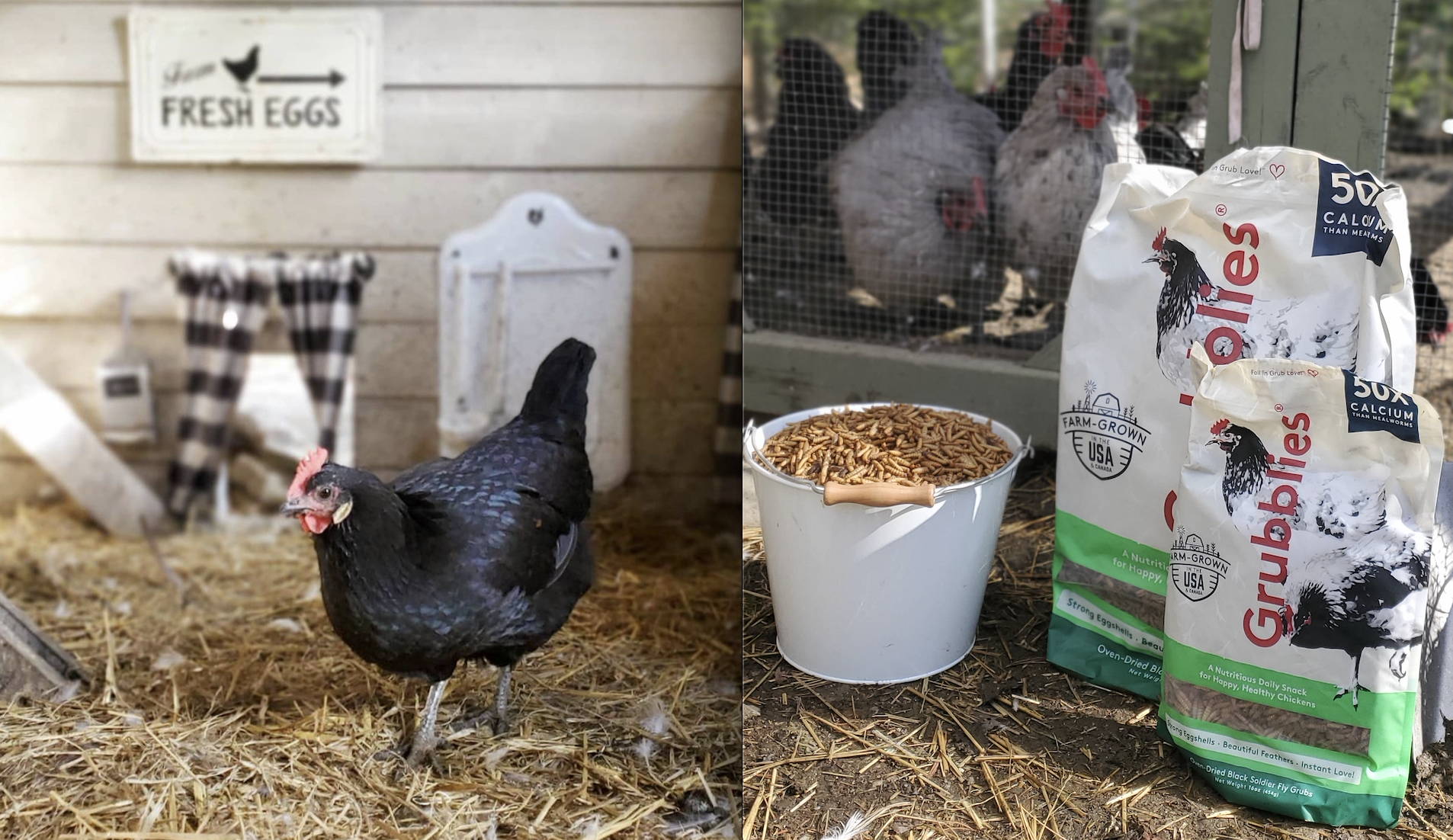 Images by Lisa Steele of Fresh Eggs Daily
Your flock can't just have an edible Christmas! They should have some practical and functional gifts too. These gift ideas will spruce up the coop and make your flock think they are living in a mansion. 
Nesting box curtains - Hens love the privacy of having curtains on the nesting boxes, plus it adds a homey feel to the coop.

 

Heating panel/pad for poultry - These handy devices allow your flock to have free-choice heat during the winter without creating a fire hazard or making them reliant on a heated coop. 

 

Automatic chicken coop door - Functional for your flock and helpful for you, an automatic chicken door is perfect for busy schedules and peace of mind!

 

Extendable kitty litter scoop or small shovel & rake - Your flock may not benefit directly from these gifts, but it will help you keep their coop clean and smelling good for them! 

 

Heated water base or heated pet bowl - Never worry about your flock not having fresh water during the winter and your flock will enjoy non-freezing water!

 

NiteGuard predator deterrent- Peace of mind for you and protection for them, everyone benefits from these coop guards!

 

Chicken saddles - Pesky roosters can leave hens looking less than presentable, so chicken saddles will be much appreciated by the rooster's favorite hens! 

 
Fun Gifts (Woot! Woot!)
And of course, what's gift giving without throwing in a few funny gifts!? Both you and your flock will enjoy hours of entertainment out of these fun toys!  
Chicken swing - It takes some getting used to, but you'll have a few flock members who like the challenge of a swinging perch!

 

Lixit chicken treat toy- The favorite toy of many flocks, a ball that dispenses goodies (such as black soldier fly grubs)

 

Chicken harness - It takes a special chicken to receive this gift, but there's probably one in every flock who would enjoy a stroll on a chicken harness with their owner!

 

Chicken coop signs - Looking for chicken coop gift ideas? Spruce up the coop for both you and your flock with some fun and fancy signs this year! Home Goods usually has some great ones. 

 

Xylophone toy for chickens - Lastly, allow your flock to explore their musical talent with their very own musical instrument mounted in their enclosure. Plus, if you have children, this will bring lots of smiles.

 
With so many great gift ideas, you won't have a problem picking out the perfect gift for your flock. Any chicken-loving friends would appreciate these gifts for their flock too! From fun to practical and everything in-between, these gifts will help your flock stay healthy this holiday season and will even benefit you as you care for and manage your backyard flock.