Are you ready to fulfill your farmyard dreams of raising chickens in your backyard? The most important thing you'll need to do is ensure that you have a proper coop for your new feathered friends. It needs to be sturdy, safe and offer them the privacy and the space they need to stay healthy and lay eggs.
A chicken coop is one of those things that can be simple and functional, or it can be totally elaborate and wild. It all depends on your personal style, your budget, the space you have available, and who is building it. Many people choose to go DIY and make their own coop. This is a great choice because you can make it fit your garden space and you can put in the design elements that you want.
The Best Chicken Coop Features
All chicken coops must have the same basic features. These are there for the protection and wellbeing of the birds. Chickens like to sleep off the ground, so roosting bars are a must. They also need privacy and shelter for laying eggs, so the interior of the coop should have sections for that. An enclosed run attached to the outside is also a must. This will be a safe space for your chickens to roam around in, away from predators.
And now, let's look at some designs for your new coop:
1. A Small, Sensible Coop
You don't need to be fancy with your chicken coop. A basic box with a roof is all they really need. Put at least a portion of the roof on hinges, and you'll be able to get in there to clean and fetch eggs with ease.
2. A Simple Raised Design
However you choose to design the actual building of your coop, raising it off the ground will give you some nice extras. Create a base platform on at least four sturdy legs, and then build your coop on top of that. You can then fence off the base for your enclosed run.
3.The Cottage House With Planter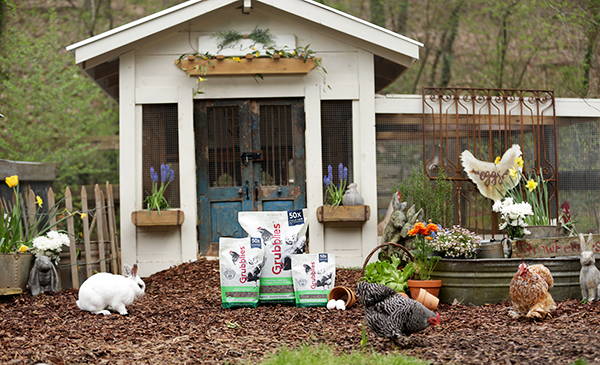 Whether you have a massive or small backyard, it's OK to want your coop to be cute. A little cottage-style coop with an A-Frame roof will look at home in any garden. You can even add a planter for vegetables or flowers.
 4. The Garden Shed
If you want your coop to look like it fits in with your garden completely, then you can't go wrong with a garden shed style. You can either adapt a wooden shed or build one from scratch. Both have their pros and cons.
5. An A-Frame Design
You can create a good looking all-in-one design with an A-frame. The nesting box and roosting bar can be in the top of the frame, and the enclosed run can be below. You'll have plenty of ventilation for your chickens and the entire structure won't take up too much space.
6. The Log Cabin
This kind of design is beautiful and natural, and automatically gives your coop excellent ventilation. It'll look right at home if you live in a wooded area.
7. Easy-Access Nesting Box
One of the main reasons you have chickens is to get a steady supply of fresh eggs. This is made a lot easier when you build the nesting box onto the side of your coop and put the roof of this section on hinges.
8. The Chicken House
If you're in it for the long-haul, a proper chicken house is a good way to go. This will need sunken foundations to support the structure and some good plans for access, ventilation and nesting boxes. The finished product will definitely be something to be proud of.
9. The Dog House Conversion
By using a barn-style doghouse, the bigger the better, you can build a great chicken coop without too much effort. Just make sure to ventilate it nicely. You can also partition it off so that the back of the kennel becomes a nesting box.
10. The Large All-In-One Hen House
If you're planning to get a lot of chickens, then you need to build something that can accommodate them all comfortably. Go for a large structure that is fenced of and fully roofed and place the actual coop to the one side of the structure.
11. The Portable Pen
Also known as a tractor coop, this style is great if you want your chickens in your garden but want to monitor the damage they do to your grass. Using PVC piping and mesh you can create a run that you can move around as you need to.
12. The Up-cycled Coop
A real DIYer knows how to up-cycle like a pro. You can cut costs and give discarded items new life by using found materials to make a good looking, functional coop.
13. The Chicken Gazebo
Putting your coop on stilts with an ample roof is a great way to improve ventilation, coop security, and maintenance. With the coop up, off the ground, you can eliminate the stoop and bending when you need to change out the bedding. And the large roof gives your girls shelter from rain and snow!
14. The Mansion Coop
If you have the space and the inclination, there is no reason why you can't go completely overboard and build your chickens a mansion. A larger structure also gives you room to build in storage for feed and cleaning supplies.
A coop with large doors and a tall ceiling can be a dream-come-true for chickens and chicken owners. The large doors and standing-room make clean up and repair easy. Plus, the ample doors and windows allow for improved ventilation and airing out your coop from time-to-time.
Grubbly Guest Writer: Zoe Morrison
Zoe started her homesteading adventure in 2015, when she had to give up her full-time job due to an acute hernia. She spends her days blogging over at Morning Chores, gardening and raising chickens and pigs.